The Cabinet has approved proposed amendments to the legislation underpinning the issue of duty of care.
If passed by the Oireachtas they would introduce significant changes that have been long sought by insurance reform campaigners who have claimed that they would bring the cost of cover down.
They have argued that the duty was unfairly balanced towards occupiers, such as business owners, making it more likely that they will be held responsible in insurance liability claims.
The proposed changes would see occupiers' duty of care responsibilities balanced with personal responsibilities, including those of consumers, visitors and recreational users.
Such a rebalancing was a key action outlined in the Government's Action Plan on Insurance Reform.
A deadline of June of last year for the proposals to go to Government had been included in the Cabinet Sub-Group on Insurance Reform Action Plan, chaired by Tánaiste Leo Varadkar, however this deadline was missed.
But now Minister for Justice Helen McEntee has received Government approval to amend the Occupiers' Liability Act 1995 to tackle the issue.
The proposed amendments follow recommendations from a review of existing legislation here and in other common law jurisdictions published by the Department of Justice last year, as well as notable Irish case law.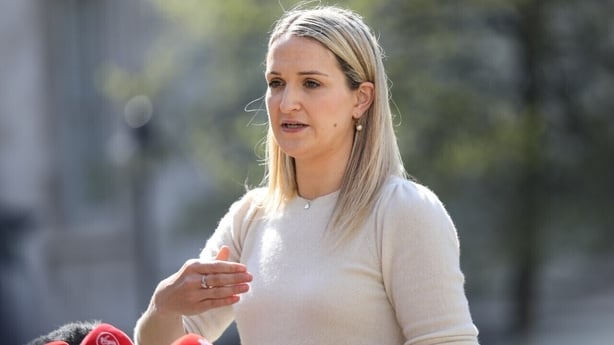 "There is a shared determination across Government to remove the impediment that high insurance costs have on our economy and communities – on our community groups, organisers of community events and businesses," said Ms McEntee.
"The combined effect of these developments is intended to lead to further reductions in insurance premiums, building on the success of the personal injuries guidelines introduced last year."
"We will now proceed to draft the proposed legislation, which will be placed before the Oireachtas for enactment as part of the Courts and Civil Law (Miscellaneous Provisions) Bill 2022, which is on the priority list for publication this Dáil session."
The amendments, if passed, would see a number of recent court decisions which rebalance the duty of care inserted into primary law.
The level of reckless disregard for a visitor or customer by the occupier of a property rather than "reasonable grounds" would be used as the standard when liability is being considered.
Limits would also be placed on the circumstances in which a court can impose liability on the occupier of a premises where a person has entered onto it in order to commit a crime.
A broader range of scenarios where it can be shown that a visitor or customer has voluntarily assumed a risk resulting in harm will also be allowed.
"I believe it strikes a new, fairer and more reasonable balance, between the steps an owner or operator of a premises must take to keep their customers and visitors safe, and what individuals themselves can be expected to take responsibility for when entering a business, club or community building for example," said Mr Varadkar.
Previously the Alliance for Insurance Reform had argued that the duty of care obligations placed an unfair, absolute responsibility on occupiers, while exempting claimants of any.
Alliance urges Government to move fast to implement reforms
Peter Boland, Director of the Alliance for Insurance Reform, said today's outline proposals look "balanced, fair, practical and proportionate".
"Speed is now of the essence in progressing to working legislation. The Government must be prepared for and resist trenchant opposition from personal injury lawyers, who are currently seeking to derail the new Judicial Guidelines with constitutional and other challenges," Mr Boland said.
"They will undoubtedly take the same approach to these proposals as they will not give up this gravy train easily," he added.
Eoin McCambridge, managing director of McCambridge's of Galway and Director of the Alliance, said the draft legislation was long overdue.
"The absolute duty of care often imposed on Irish businesses, voluntary and community groups, sports and cultural organisations and charities goes way beyond what is imposed in other jurisdictions and serves as a real impediment to any organisation dealing with the public," he stated.
Tracy Sheridan, owner of Kidspace play centres in Rathfarnham and Rathcoole and director of the Alliance said that of all the major challenges facing Ireland right now, insurance is the one that Government can fix quickest.
"But reforms are not moving fast enough, and policyholders cannot wait much longer for them to be put in place," Ms Sheridan said.
"Government has a golden opportunity to sort out the cost of insurance now and forever, but only if they get reforms such as the rebalancing of the duty of care done now, before the opportunity is lost," she added.

https://www.rte.ie/news/business/2022/0518/1299644-cabinet-duty/