Court forms are bewildering, people who speak limited English lose their cases by default, a lack of broadband thwarts the effectiveness of virtual court hearings, there is a shortage of legal aid, and the state judicial system's chosen online platform is ill-suited to the needs of the disabled and non-English speakers.
Those were the conclusions of an alarming report released on Tuesday from the Colorado Access to Justice Commission, a body of nearly two dozen voting members representing Colorado's state and federal courts and the legal profession more broadly. The commission's findings and recommendations came after Justice Melissa Hart and the commission's executive director, Elisa Overall, held 41 listening sessions spanning all 22 of the state's judicial districts in 2021.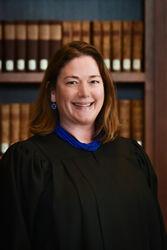 Focusing on the civil justice system, where litigants are not entitled to the assistance of counsel, the report chronicled the frustrations and pervasive barriers people face when representing themselves across the state on a variety of matters, from evictions to small claims cases.
"The entire process is confusing and not understandable. The statutes are unreadable, and the forms are difficult to understand," Becky Casey, a family court facilitator and self-represented litigant coordinator in Fremont County told Hart and Overall. "Once in court, they are so intimidated by the process they don't know what to say, or when to say it. Afterwards they feel like they didn't get a chance to talk."
Arapahoe County Court Judge Michael Roche similarly said it was rare for people to enter his courtroom having read anything other than the hearing notice.
"It is very clear that the forms make people freeze and lock up because they are so difficult to understand," he explained.
The report acknowledged as a positive development the increase in online court hearings, which the COVID-19 pandemic greatly accelerated. Lawyers, judges and even the head of the state's court system, Chief Justice Brian D. Boatright, have welcomed the transition to remote appearances for at least some types of judicial proceedings.
However, the report raised multiple red flags about the shift in technology. Participants in the listening sessions complained that the lack of universal broadband service forces people attending virtual court sessions to turn off their video cameras in order to preserve bandwidth for the audio feed. Webex, the virtual platform the Judicial Department uses, is "ill-suited" for simultaneous language interpretation, and disability advocates described the software as "unusable."
Dick Gast, the chair of the Access to Justice Commission, said the findings indicate a "crisis that demands increased advocacy and funding for policies and services."
The commission made several recommendations for the General Assembly, the Judicial Department and even the state's two law schools to enact. The legislature, according to the report, should "significantly" increase funding for access to legal aid in civil cases.
There has already been some action to assist vulnerable populations. Between 2016 and 2020, the legislature kept the fund providing legal assistance to victims of domestic violence at $2.5 million. In addition, the federal COVID-19 relief bill from 2021 provided $1.5 million to eviction legal defense, and that same year the General Assembly granted $100,000 for immigrant legal defense.
"Now that we have clearly identified these barriers, our commission's job is to unite leaders in working together to drive systemic innovation and develop lasting solutions," Overall said in response to the report.
The report specifically called on the legislature to support programs that increase court access for individuals with limited English proficiency, create financial incentives for lawyers to practice in rural communities and to write laws affecting the civil justice system using plain English.
For the judiciary, the commission recommended that the Judicial Department train judges how to better serve people experiencing trauma, create standard forms for use in courts statewide and clarify how non-lawyers can assist litigants with their cases without risking a violation for the unauthorized practice of law.
Finally, the report asked the University of Colorado and University of Denver law schools to help place law students and recent graduates in rural parts of the state.
In total, the report reflected the feedback of 295 representatives from the judicial branch and 224 community service providers. The attendees of listening sessions included state legislators, county commissioners and representatives of religious organizations.
The report noted that whatever challenges a self-represented litigant may face in pursuing their case without the aid of an attorney, those barriers are magnified for people suffering from addiction, lack of formal education or mental health challenges.
"Advocates and service providers emphasized that victims frequently feel intimidated, ignored, undermined, or retraumatized by the civil justice system," the commission wrote. "Several service providers noted that the differences between the criminal and civil justice systems are difficult for the general public to appreciate: both processes occur in the same courthouse, in the same types of courtrooms, before identical looking and acting judges."
The problems can be particularly acute for immigrants or those with limited English proficiency. Some people lose their cases simply because they are unable to comply with the requirement that court documents be completed in English.
And though the state legislature in 2020 forbade civil immigration arrests of people in courthouses and on their way to or from court proceedings, a representative of the Compañeros: Four Corners Immigrant Resource Center in Durango told Hart and Overall that immigrants still feared the possibility of detention.
Self-represented litigants "view the courts as an arm of the haves, shaking down the have-nots," one unnamed judge said, according to the report. "This does not lend itself to much faith in the judiciary."
While legal aid is available in civil cases, the report indicated that demand is high, and eligibility for free or low-cost representation may be unrealistically stringent. A family of four can only make $33,125 to qualify for legal aid, meaning many low-income Coloradans will neither be able to afford an attorney nor meet the threshold for assistance. Other categories of litigants, such as people who are undocumented, are ineligible.
At Colorado's federal trial court, a pro bono panel exists for civil lawsuits, in which lawyers have helped hundreds of litigants pursue their cases since the program began as a pilot in 2013. Attorneys are unpaid, but are eligible for reimbursements for their expenses. Colorado is without a similar program at the state level, with the report noting that some attorneys from more populated areas are hesitant to take on cases in rural or mountain communities because the procedures in those courtrooms may be different.
At the same time, it is difficult to recruit and retain lawyers to practice in rural parts of the state. One family court facilitator observed during the listening sessions that "we can't refer people to attorneys when there are no attorneys."
For people who are able to assist litigants proceeding without attorneys, their authority is limited. Although self-represented litigant coordinators provide general information about procedures and family court facilitators offer case management services, they cannot provide legal advice, which reportedly leaves many litigants feeling frustrated. Likewise, some litigants are under the impression that court interpreters can help with more than just language services.
"Court interpreters have a very different role than people think. They cannot advocate, guide, or explain. They cannot help litigants better understand legal issues," the report indicated.
The commission's recommendations extended to entities beyond judges, lawmakers and law school leaders. For instance, the citizen-led nominating and performance commissions, which screen judicial applicants and evaluate state judges for retention, should bring up access-to-justice concerns when making their recommendations, the report advised.
At the same time, the report indicated a handful of bright spots in recent years, including a program that now allows electronic filing in domestic cases and an increase from 14 to 44 self-represented litigant coordinators — nicknamed "Sherlocks" — since 2014. The Judicial Department reported that Sherlocks had at least 168,000 contacts with people in 2019.
U.S. Magistrate Judge Kristen L. Mix, a commission member, said she was grateful for the progress the state has made so far in increasing access to justice.
"As the report makes clear, we still have a long ways to go but we are getting closer," Mix said.
https://www.coloradopolitics.com/courts/report-sounds-alarm-for-lawmakers-judges-to-fix-gaps-in-states-civil-justice-system/article_833d4c38-a964-11ec-bc2d-5b4d4e1e8146.html